Hairdressing and beauty therapy students at Activate Learning are partnering with award-winning hairdresser Anne Veck by taking part in an exciting project to help them to become more sustainable.
Anne Veck Limited is the first hair salon business in the UK to be accredited Carbon Neutral and is on a journey to become as sustainable as possible.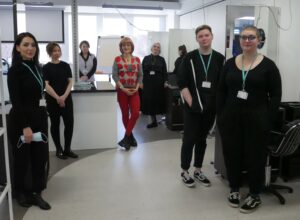 Anne and her business partner Keith have developed a toolkit called Salon Resource which gives salons some simple steps to start their journey on sustainability. It is free of charge, and available to download from Anne Veck's Instagram page.
As part of their Project-based learning, students studying our hairdressing and beauty therapy programmes will use the Salon Resource toolkit to work with the salon managers at each of the colleges and look at what changes they can make to become more sustainable.
Activate Learning is the first college group to be putting this toolkit into practice.
It is also hoped that the students can use what they learn on the project to influence the salons where they do their placements or work part-time.
By the end of the project students will have more knowledge about sustainability and the differences that they can make when working in the industry.
Students will also give feedback on the toolkit to Anne Veck to help with further development.
What students, staff and Anne Veck think about the project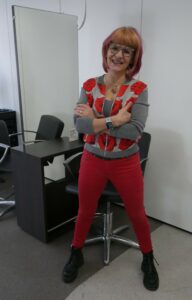 Georgia is studying a Hairdressing and Barbering Level 2 Technical Certificate at Activate Learning.
She said: "I think it's going to be a really good opportunity because we're learning about the environment and everything that we can do to reduce our impact.
"In the future when we're working as hairdressers, we'll be able to know the differences that we can make and the impact that that will have."
Anne Veck, Creative Director at Anne Veck said: "My hope is that the students embrace it and get everyone on board and take simple steps to have more of a sustainable salon and ideally sustainable lifestyle, because having a sustainable salon business also impacts your lifestyle.
"I'm excited to be working with Activate Learning on this project as there are students of all ages here and the more people and bigger platform you can have to spread the message, the better. The students may have their own salon one day or will work in an existing salon so if they can already have sustainability in their mind, the world will be a better place."
Debbie Weresch, Commercial Business Manager at Activate Learning said: "One of our own salon drivers has been to be more sustainable because we think it's really important.
"I hope that this project makes the students more aware about sustainability and the things that we can all do as hairdressers to make a difference such as disposing of our waste in a more environmental way or reducing paper waste.
"It's about finding that balance of what's sustainable and how you can maintain that sustainability and I think it's really important that everyone should be doing more whether that's on a personal or domestic level or on a business level."

Why Project-based learning is important
Project-based learning helps students to gain knowledge, skills and attributes by working for an extended period of time to investigate and respond to a complex question, problem or challenge.
These projects are designed to help students to think critically and develop problem-solving, teamwork and self-management skills.
The importance of sustainability
This project also demonstrates one of Activate Learning's strategic drivers, sustainability. As a values-driven organisation, we recognise that our resources are finite and precious, and we do not want to waste them. As an organisation that wants to offer the highest quality to its staff, students and employers, we wish to use our resources in an effective and efficient manner.
From the curriculum we deliver, to the carbon footprint of our campuses, Activate Learning recognises that we have a duty to ensure everything we do is considered against the backdrop of the impact it will have on both our local and global environment. We also recognise that we have a duty to create learners who are more environmentally aware and are able to make informed choices.
Find out about our hairdressing and beauty therapy courses or contact us on 0800 612 6008.