Learning in the Rycotewood Furniture Centre, our students develop skills as creative thinkers and makers, who innovate furniture craft through the exploration of materials and skills.
This programme is aimed at aspiring furniture designers/makers and provides a work-related Honours top-up progression route for holders of a Foundation Degree or HND in Furniture Design and Make.
It consists of two key elements, focusing on independent and industry-linked projects. The independent projects are linked together to provide a holistic experience, first establishing a self-initiated brief through a significant written research project and directly linking this with a major design and make project. Building on the reputation of the Rycotewood Furniture Centre and its industry links, a combination of live projects, study visits and guest speakers will support the development of design, craft, business and enterprise skills relevant to furniture designer makers.
On successful completion, you will be awarded a Foundation Degree (Arts) in Furniture: Design and Make from Oxford Brookes University.
Tuition Fees
Home/EU* Fee for September 2023 entry: £7,570 per year
Please note: Tuition fees are published for the first year of entry only and may increase in subsequent years both for new and continuing students in line with an inflationary amount determined by the Office for Students.
*Fee information for European Union (EU) students: If your course starts on or after the 1st August 2021, you will no longer be eligible for financial support from Student Finance England unless you meet one of the following criteria:
you are able to benefit from the citizens' rights agreements
you are an Irish national living in the UK or Republic of Ireland: benefits of Irish nationals under Common Travel Area guidance arrangement will continue
If you are interested in this course and would like an informal, no-obligation chat about the details of the course, would like to arrange to come on-site and visit our facilities, learn how to sign up, or anything else, please get in touch and we'd be happy to help!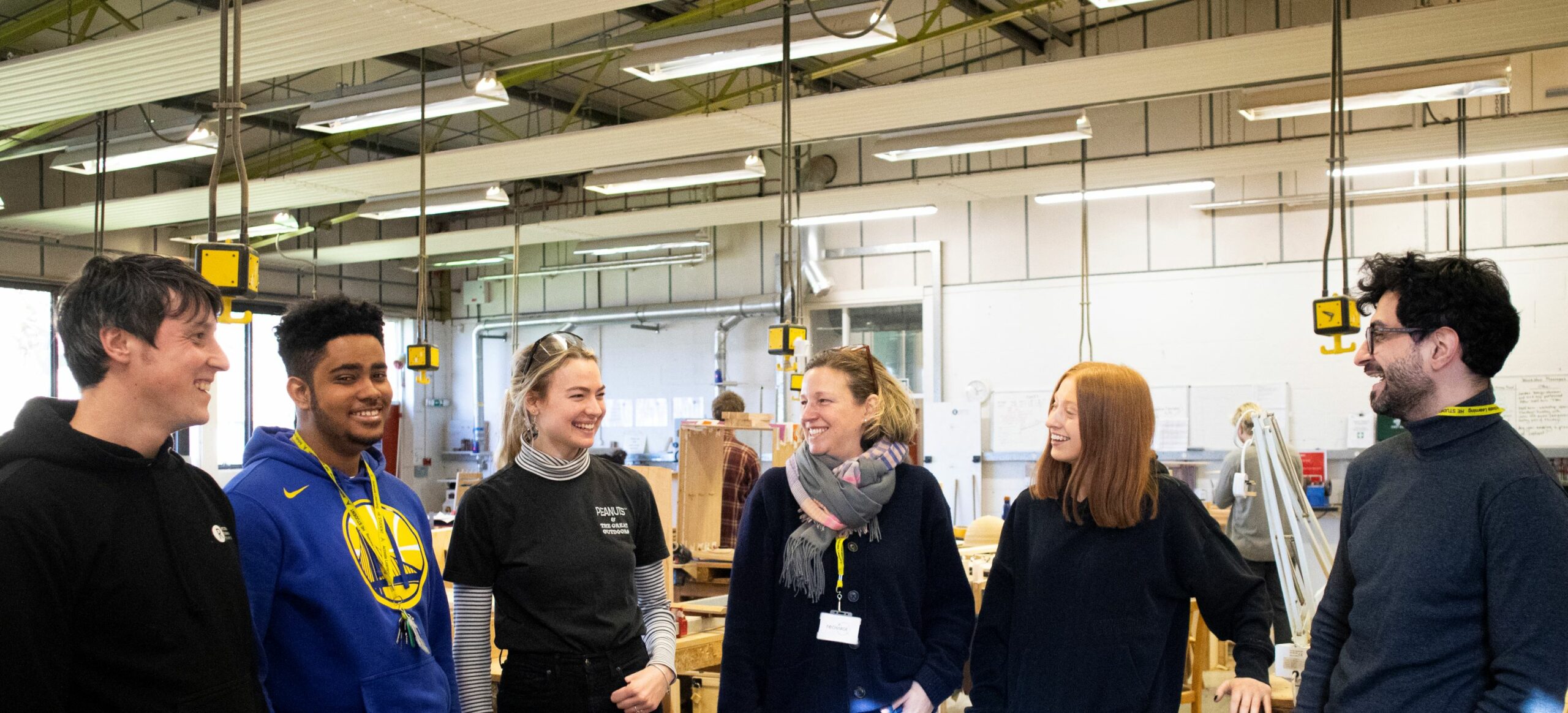 What you'll learn
The programme is delivered in the Rycotewood Furniture Centre of Excellence. You will be taught by highly professional furniture designer /makers who have been in industry and are kept up-to-date with current practices.
Work related experiences are fully integrated into the programme and include regular guest speakers, live project briefs, competitions and visits. The programme will culminate in a professional public exhibition for the industry and networking opportunities. You will be encouraged to engage in live projects and national competitions. Current examples are New Forest Trust Fine Furniture Competition, Alan Peters Award and Worshipful Company of Furniture Makers Young Furniture Maker Awards.
Please note that as programmes are reviewed regularly, the module list may vary from that shown here:
Level 4:
Technical and Visual Communication
Furniture Craft
Design and Make
Manufacturing and Material Culture
Level 5:
Advanced Technical and Visual Communication
Furniture Production
Advanced Design and Make
Advanced Manufacturing and Culture
How you'll learn and be assessed
Students will be able to enjoy the advantages of working and learning in a creative Design Studio environment together with their peers. This provides the opportunity to pool experiences, research and ideas; to brainstorm on projects together; give and receive encouragement and advice and develop a group ethos.
Students will have the opportunity to use their own dedicated workbench and access to the wood machine and veneering workshops to develop their learning through three dimensional exploration, testing, evaluation of their design proposals and subsequently making high quality practical outcomes. Students will be supported during the making stage of the projects through practical guidance by teachers and supervision in the workshops by dedicated workshop supervisors.
Students of the FdA share the same workshops with final year BA students allowing opportunities for shared peer learning and collaboration.
Contacts with the furniture industry are given a high priority throughout each level of the programme and maintained through visiting specialists and guest lecturers, industry engaged projects and visits to relevant exhibitions. You are encouraged to take an active role in your learning, utilising effective time management and use of resources.
You will be provided with a suitably equipped place to work when attending college that will include access to specialist staff, IT facilities and other learning resources which will be appropriate for the nature of work you will be required to undertake. Additionally, the college offers a wide range of other resources and facilities which will be available to you, further details of which can found in the Higher Education Student Handbook.
Each student will be allocated their own work bench and space in the HE workshop. Students have access to a dedicated IT suite, design studio, veneering, spray finishing upholstery and wood machine workshops.
As well as being enrolled at City of Oxford College you will also be enrolled with Oxford Brookes University and so will benefit from the same facilities and services as on campus students.
Study support
If you do not have a recognised disability or specific learning difficulty, but you require additional support with your studies, you may be eligible to access some discrete sessions in one of the following areas:
Assistive software training
IT upskilling
Essay planning and structure
Proof reading and editing written work
Bibliographies and referencing
Time management and personal organisation
Revision and exam tips
Presentation techniques
N.B. Your eligibility for any of the above support will be reviewed with your course tutors and a member of the study support team on your campus.
At each level of study you will be asked to participate in formative assessment procedures which require you to consider your own work against the agreed assessment criteria. This allows you to reflect upon your own practice, with tutors, and to take responsibility for acknowledging areas of strength and areas for further development in your work.
Entry requirements
Please note: Each application will be considered on an individual basis, following the university principle of widening access to those that don't meet traditional academic entry criteria.
We also welcome applications from mature students with design or woodworking experience who may not have formal qualifications.
To enter this course applicants typically have one or more of the following:
a minimum of two years full-time relevant work experience
a current role in an appropriate workplace setting
evidence of ability to study at academic Level 4 through a recommendation
a British Council IELTS of minimum level 6.0 overall in reading and writing components and 5.5 for speaking and listening.
a minimum of one A-level at grade C
five GCSE passes at C grade or above, including maths and English Language
a National Diploma in General Art and Design
an Art Foundation course
Level 3 City and Guilds Diploma in Furniture or Access to Art and Design
In addition: Students are typically expected to start at Level 4, but can be admitted to any level of the course which is considered suitable, after portfolio review and interview using the Credit Accumulation and Transfer Scheme (CATS). Under this arrangement, a student may apply to have previous academic credits or other learning (APL) or experience (APEL) taken into consideration. Such applications are considered by the Faculty CATS committee and must be supported by the Programme Coordinator.
Additional information
All applicants to the course will be interviewed and their portfolios reviewed, so we can assess the candidates suitability and compatibility. This is an opportunity for you to demonstrate your academic, artistic and practical skills needed to embark on this course.
You can also use your interview as an opportunity to tour the facilities, meet staff and students and have a rundown of the course.
Oxford Brookes offers accommodation for new and existing full-time students who wish to live in our halls and shared houses.
How to apply
Applicants should apply through the UCAS (the Universities and Colleges Admissions Service) website. All courses will be listed under Activate Learning on the UCAS website.