As Covid restrictions become a thing of the past, one department at Guildford College College are probably more grateful than most! 
Over the past couple of years, the Travel and Tourism team at the college have been frustratingly limited to what they can offer their students in terms of trips and visits – which is, of course, a vital aspect of their subject area.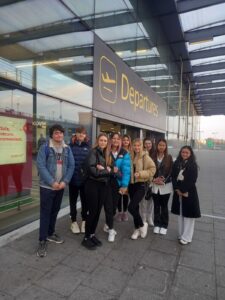 The tutors, Chris Duffield and Mandy France, have done an amazing job throughout the pandemic, managing to tailor activities to comply with restrictive travel rules, including an educational and sponsored 'treasure hunt' of tourist attractions in London in December 2020, which was great fun. But not the 'big annual trip' they traditionally plan each year.  
At the start of this academic year with travel restrictions starting to relax, and linking to their Events and Conference unit, the group of students were delighted to be given the opportunity to plan a one day trip of their own.  
Previous day trips have included Dublin and Venice, but with COVID restrictions in Europe at the time of planning, the group focused on UK destinations.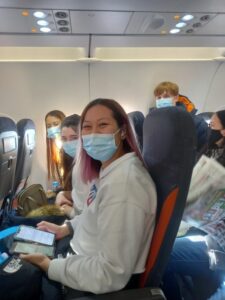 Various possibilities were discussed such as trips to Jersey, Belfast and Edinburgh – with Belfast emerging the unanimous favourite of the group after some research and a presentation to the class.  
Having spent the past few months planning the itinerary and budgeting for the trip, a date was set.  
An early start on Tuesday 15 March saw students and tutors meet at Gatwick Airport in time for their flight across the Irish sea. Here a full day of activities were planned in the vibrant city of Belfast.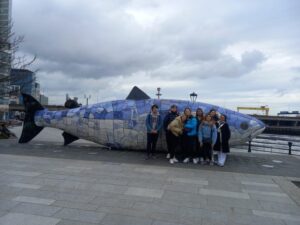 First stop was a hop-on-and-off bus tour which showed the group some real highlights of the city, such as The Salmon of Knowledge, a stunning mosaic sculpture made of ceramic tiles decorated with texts and images relating to the history of Belfast, the City Hall, The Grand Opera House, The Ring of Thanksgiving and The Albert Memorial Clock – to name but a few! The guided tour also explained the background to the "dark days of the troubles" in Northern Ireland.
The group were also lucky enough to spend some time at the Titanic Museum which they all found really enlightening and moving, before walking back into town and finishing off their day with a very late lunch and a well-earned rest before catching the bus back to the airport for their 8.30pm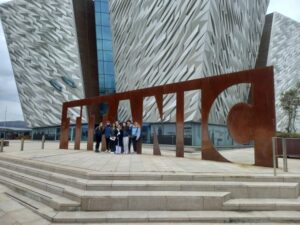 flight back to Gatwick.  
A long day and 18,000 steps later, the happy but slightly weary group made their way home to bed fully educated on the fantastic city of Belfast and all it has to offer! 
Tutor Mandy France said: "This trip brings the classroom theory to life, they witnessed airport operations, the role of cabin crew and experienced a range of different visitor attractions and transport methods. Their behaviour on the day was exemplary and they worked brilliantly as a team., I was extremely proud of them."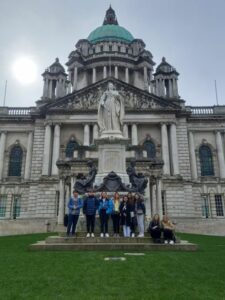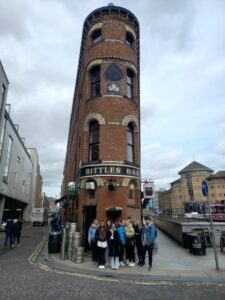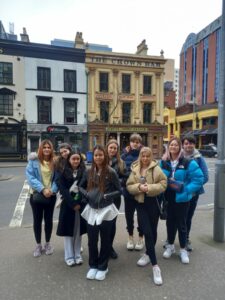 Find out more about Travel and Tourism courses offered at Guildford College